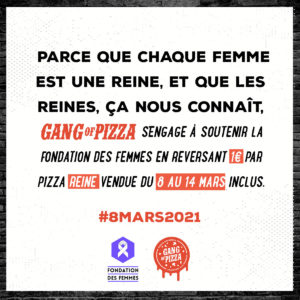 À l'occasion de la Journée Internationale des Droits de la Femme, GANG OF PIZZA se mobilise contre les violences faites aux femmes.
Du 8 au 14 mars 2021 inclus, 1 pizza Reine achetée = 1€ reversé à la Fondation des Femmes.
Cette opération est valable sur l'ensemble des distributeurs Gang Of Pizza de France.
Qu'est-ce que la Fondation des Femmes ?
La Fondation des Femmes est une fondation française de lutte contre les violences dont elles sont victimes.
Le but de cette fondation, sous égide de la Fondation de France, est de donner les moyens de lutter efficacement contre les violences  !
Comment participer à l'opération ? 
Pour participer à l'opération, il vous suffit simplement de vous rendre à votre distributeur local ou sur l'application de vente en ligne, et d'acheter une pizza Reine.
Une fois la fin de l'opération, Gang Of Pizza consultera les chiffres de vente des pizzas REINE Base crème  & base  tomate réalisée entre le 8 mars 2021 00h00 et le 14 mars 2021 23h59. 
Une fois ce chiffre comptabilisé, nous reverserons la somme récoltée sous forme de don à l'association.
Comment sera utilisé l'argent du don ?
La fondation des femmes opère la redistribution des dons vers les diverses associations. Le COMEX (Comité Exécutif), détermine annuellement les priorités et décide de l'attribution des fonds. Le Comité Exécutif dispose de toute liberté dans l'approbation des projets.
Pour toute demande d'information complémentaire, n'hésitez pas à nous contacter.